GET YOUR MAXIMUM ADVANTAGE
with LeverageGTM
When you're ready to grow your business, you need a growth strategy that creates momentum to build your value. Our Silicon Valley expertise will help you focus on the right resources and relationships to connect, grow and thrive as you go to market.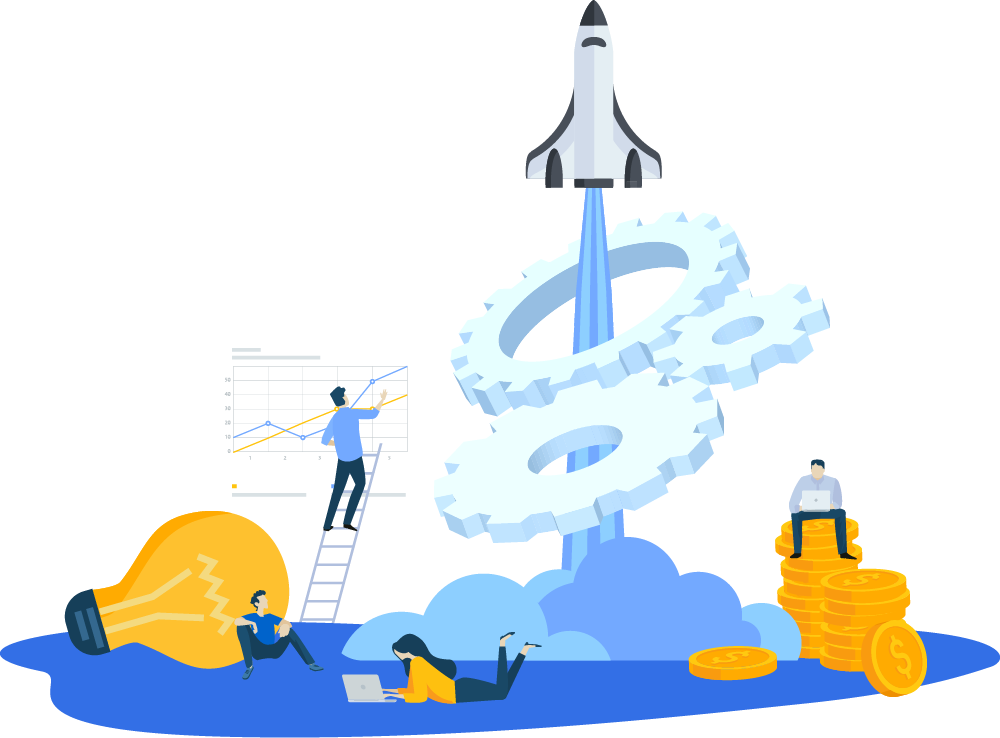 LEVERAGE OUR RELATIONSHIPS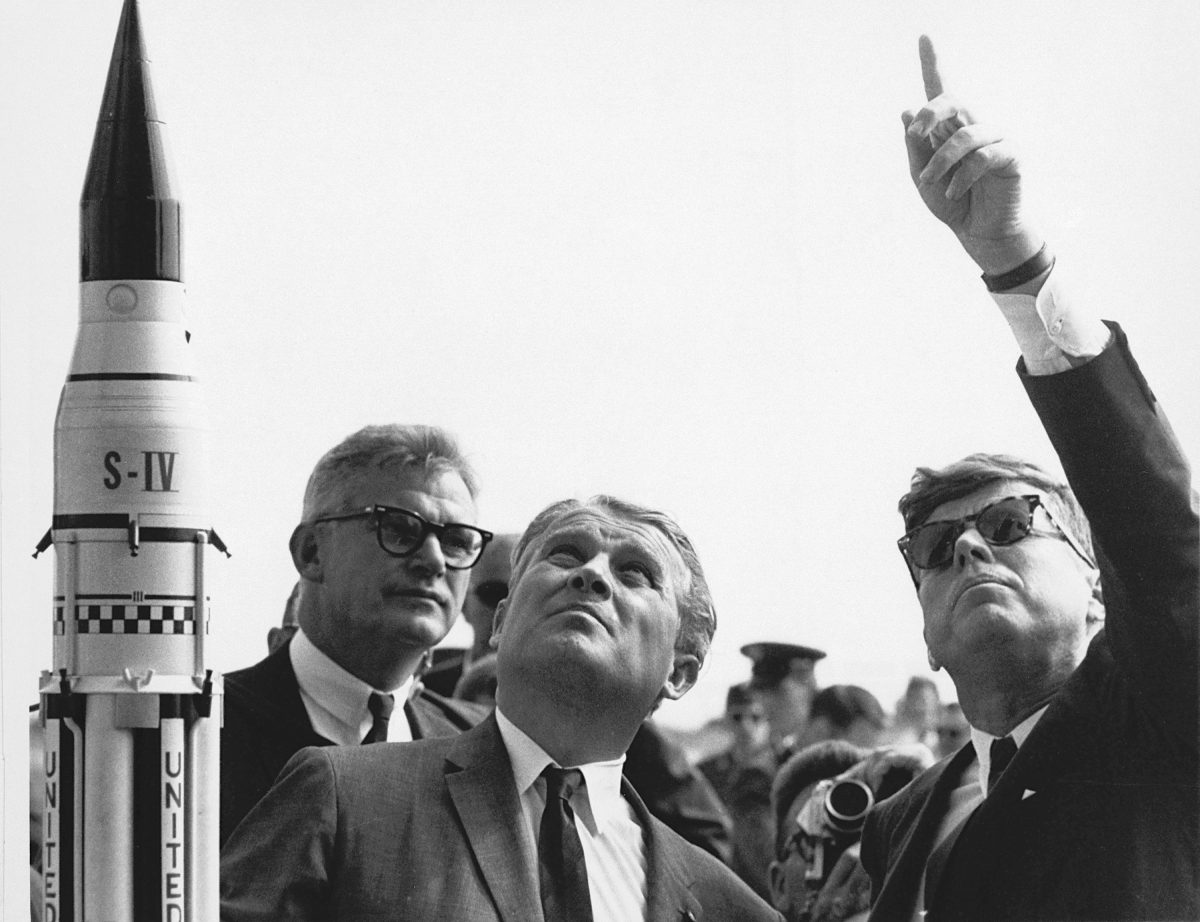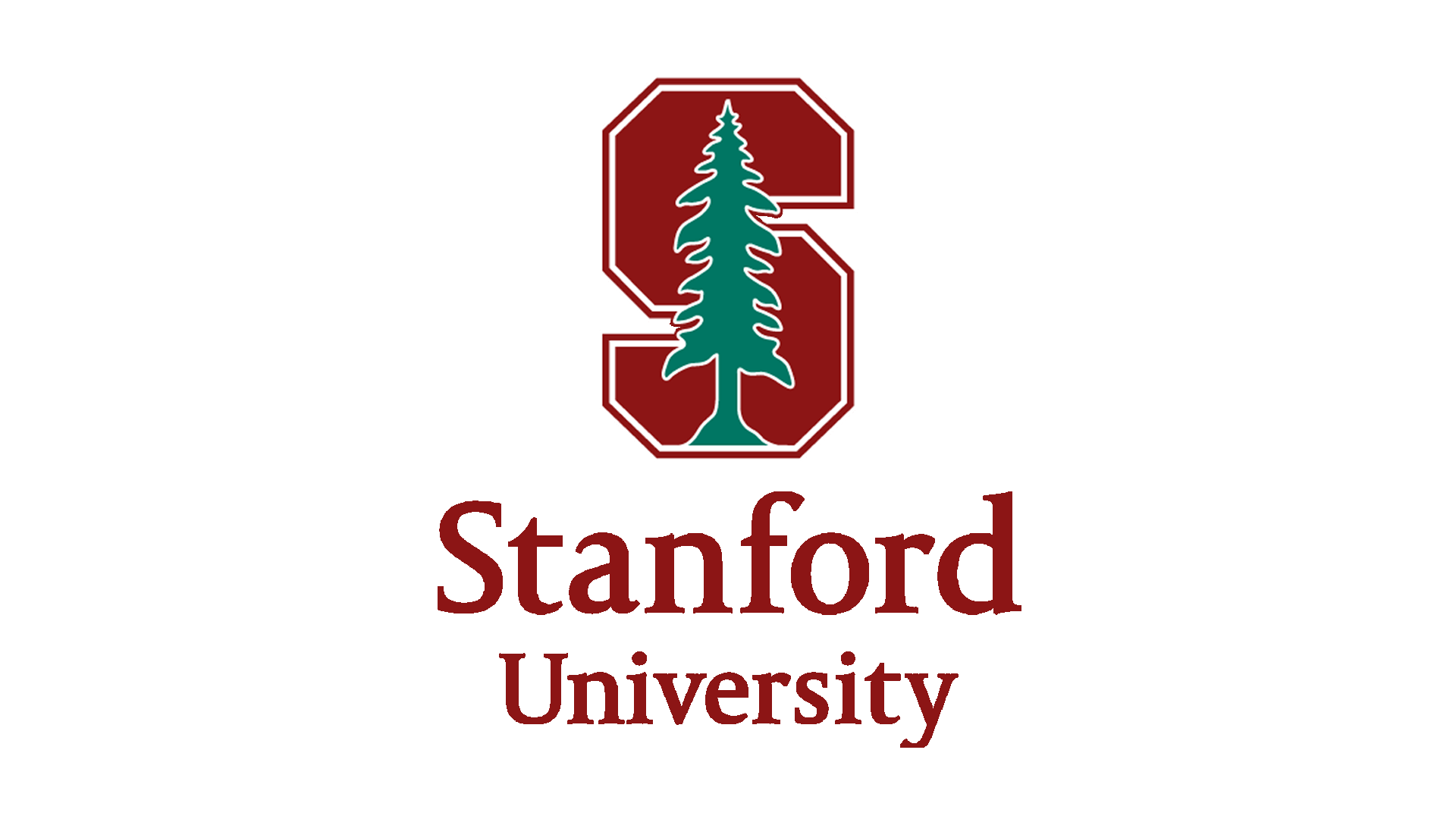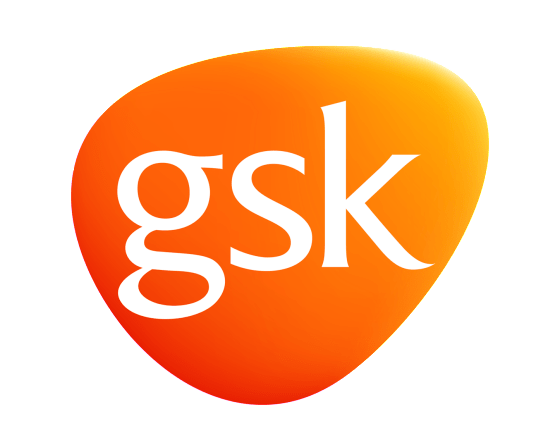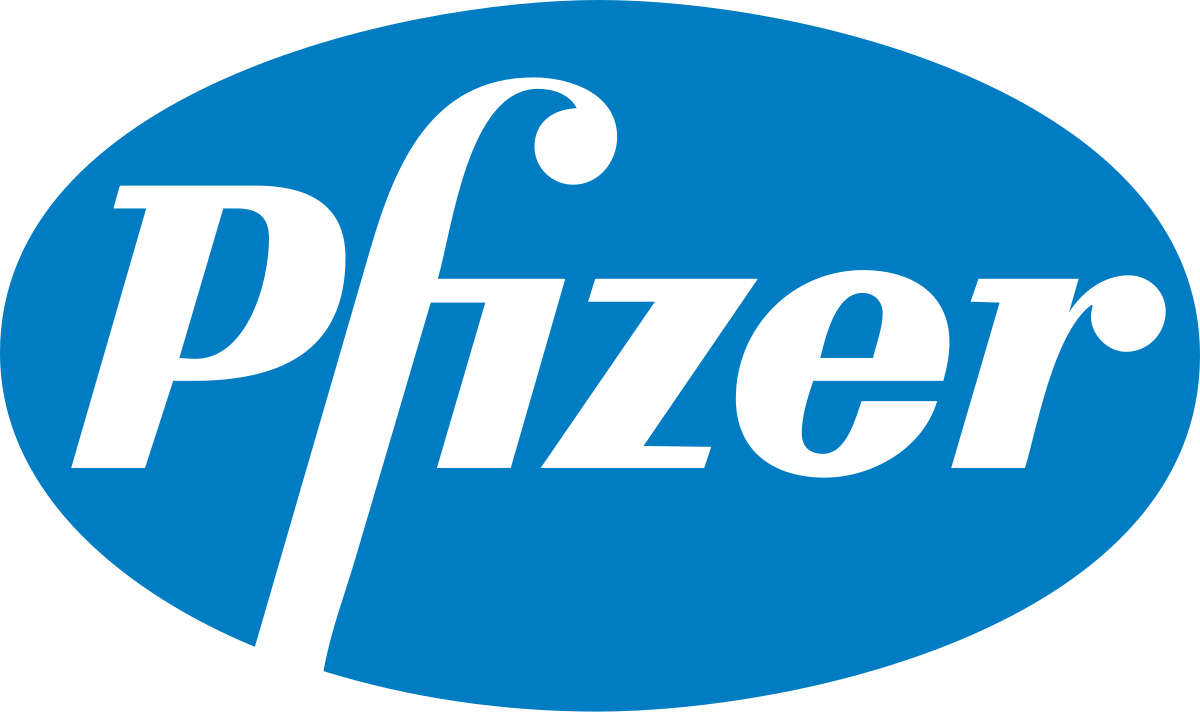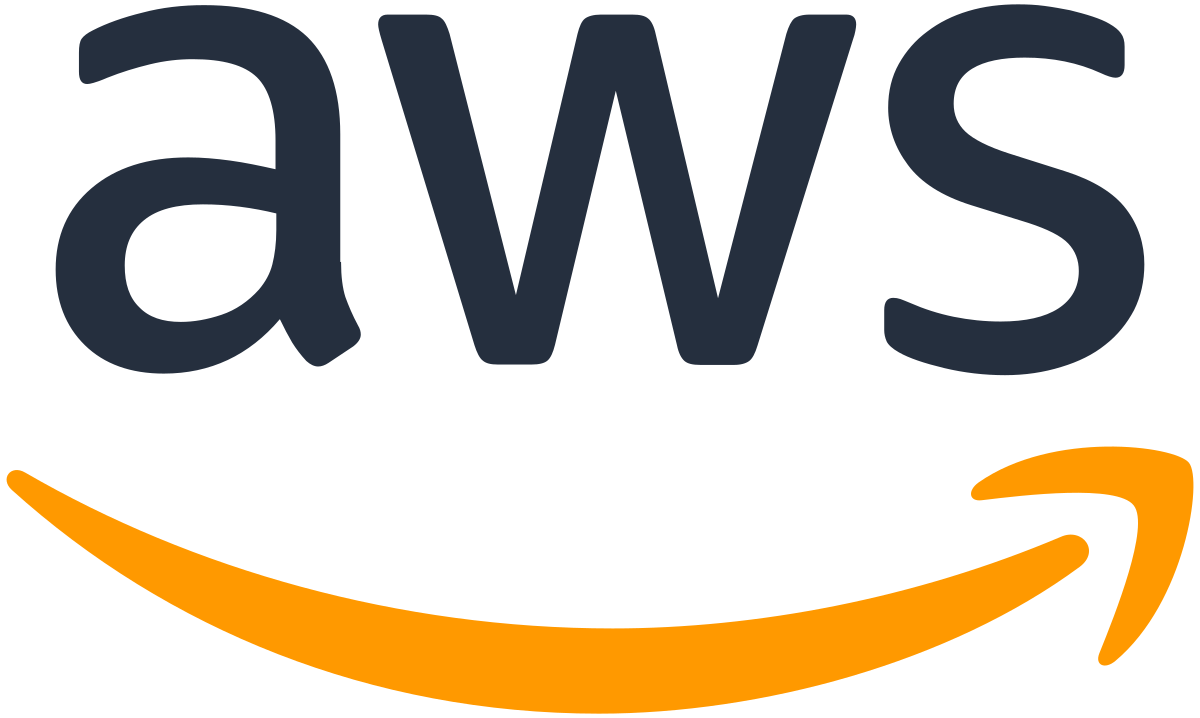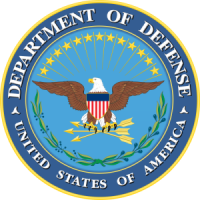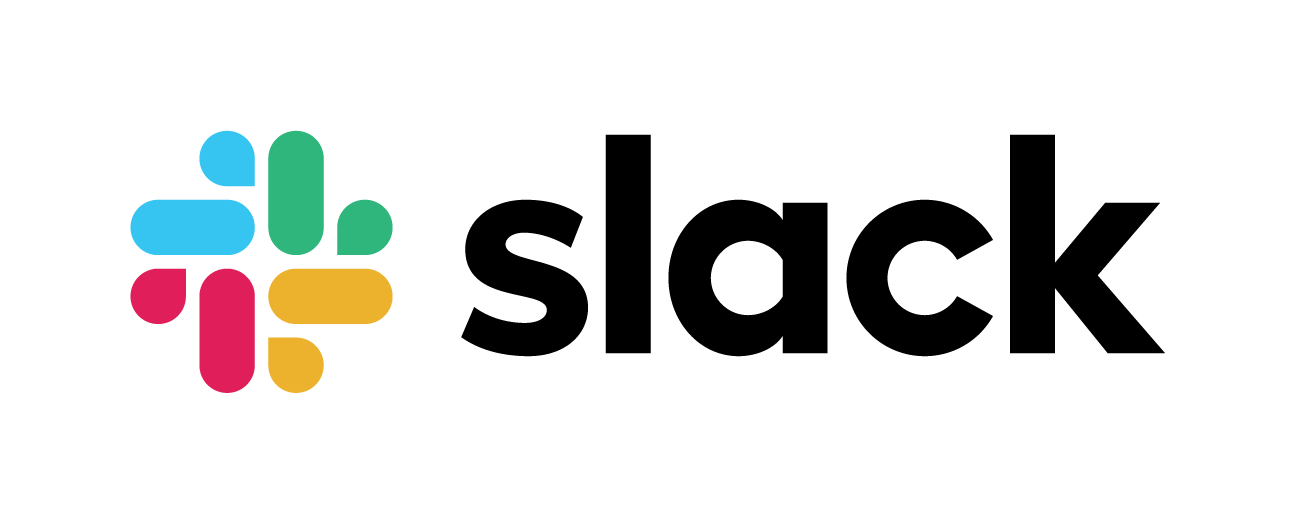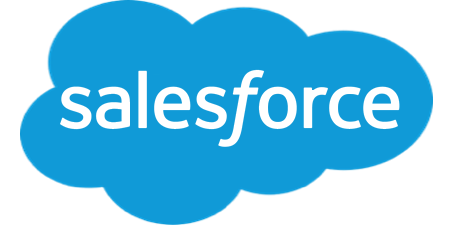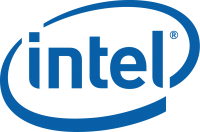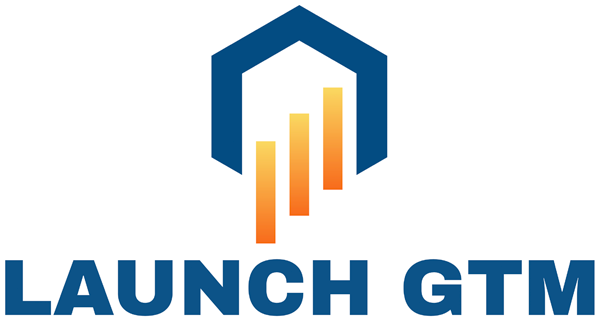 View All
Customers: Accenture, Ascensus, Adobe, ADP, Aetna, AIG Akamai, Alcatel-Lucent, All Scripts, Allstate, Altera, Amazon, AMD, Amdocs, American Cancer, American Red Cross, Analog Devices, Ancestry.com, Apple, Applied Materials, Arista Networks, Arrow, AstraZeneca, AT&T, Atos, Auto Desk, Avaya, Ani Networks, Avid Technology, Avnet, AWS, Axcient, Bain, Banco Santander, Bank of America, Barclays Bank, Barracuda, BB&T, Bed Bath & Beyond, Bell Canada, Black Rock, Bloomberg, BIS, BNY Mellon, Boston College, Boston Scientific, Box, Brocade, Burlington Stores, CA Technologies, Cancom, Capgemini, Capital One, Cardinal Health, Catalina Marketing, CBOE, CBRE, CDW, CenturyLink, CGI, Charles Schwab, CIBC, Cienna, Cisco, Citi, Citizens Bank, Citrix, Clean Harbors, Coca-Cola, Coldwell Banker, Colliers, Comcast, Computer Associates, Compuware, Comverse, CondeNast, Container Store, Cox, Credit Suisse, CSC, Cushman Wakefield, CVS, Datapipe, DDB, De Shaw, Dell, Deloitte, Deutsche Bank, DHL, Diebold, Digital Realty, Direct TV, Dish Network, DreamWorks, DST Systems, DTCC, Dun and Bradstreet, DuPont, Eaton, Eaton Vance, eBay, Echostar, Edward Jones, EMC, Emulex, Equifax, Equinix, Ericsson, ESPN, Evercore, Exact Target, Extreme, EY, F5, Facebook, Fidelity Investments, Fifth Third Bank, Finra, First Data, Fiserv, Ford, GE, General Dynamics, General Motors, Goldman Sachs, Good Technology, Goodwin Proctor, Goodyear Tire, Google, Great-West Financial, Haemonetics, Hartford Insurance Group, Harvard Pilgrim Health, HCL Technologies, Heineken, Hertz, Honeywell, HPE, HSBC, Hudson Advisors, Humana, IBM, IDEXX, IDT, IHG, Info Blox, Informatica, Ingram, Insight, Insperity, Intel, Intralinks, Iron Mountain, IXIA, Jabil, John Hancock, JPMC, Juniper, Kaiser Permanente, Konica, Kony, KPMG, Kronos, Latisys, Level 3 Communications, Levi Strauss, Liberty Mutual, Linkedin, Loyola Maryland, LSI, Macy's, MapR, MarketStar, Marsh, Mary Kay, Mass Mutual, Math Works, McAfee, McKesson, Mentor Graphics, Merck, Micron, Micros, Mitel, Morgan Stanley, Motorola Solutions, NASD, National Stock Exchange, Nationwide Insurance, Natixis, NaviSite, NBCUniversal, NCR, NetApp, Netscout, New York Life, Nike, Nokia, Northwestern Mutual, Norwegian Cruiseline, NPD Group, NTT, Nuance, Office Depot, Ohio State, Omnicom, Oppenheimer, Oracle, Partners Health, Paychex, PC Connection, Pearson, Pega Systems, Pepsi, Philips, Pitney Bowes, Pivotal, Playboy, Polycom, Power Corp, Priceline, Proctor & Gamble, Progress Software, Prudential Financial, PTC, Putnam Investments, PWC, Qualcomm, RackSpace, RBC, Red Hat, Rite Aide, Rogers Communications, Rolta, Royal Bank of Scotland, Sabre, Salesfore.com, Samsung, SanDisk, Sanmina, SAP, SAS, Schneider, Seagate, Sears, Siemens, SGI, Shell, Signa, Skillsaw, SMS, Solid Fire, Sony, Splunk, Sprint, Standard Chartered Bank, Stanford University, Starbucks, State Street, Stratus, Sun Life, SunGard, Symmantec, Synnex, T. Rowe Price, Talisman Energy, Target, Tech Data, Tech Target, TEK Systems, TELUS, Teradata, Texas Instruments, Thermo Fisher, Thomson Reuters, TIBCO, Travelers, Trizetto, TSYS, T-Systems, Turner Broadcasting, Tyco, UBS, UL, United Airlines, United Health, US Bank, USAA, Vail Resorts, Valero Energy, VCE, Veeam, Verisign, Verizon, Visa, VMware, Vodaphone, Walmart, Walt Disney, Warner Brothers, Wellington, Wells Fargo, Xerox
VAR's: AdvizeX, IIS, Alliance Technology Group, Advanced Systems Group, WWT, CDI, EPlus, Forsythe, Groupware, LOGICALIS, Onyx, Presidio, SHI , Sigma, Sirius , Mainline, Technologent, Continental Resources, Corporate Technology, Maryville, Fusion Storm, Eastern Computer, Enpointe, IronBow, MTM, Green Pages, Kelser, DayMark
SI's: PwC, Accenture, DXC, Deloitte, Accenture
ISV's/OEM's : HP, Dell/EMC, Cisco, VMWare, Pivotal, NetApp, IBM, Oracle, Intel, SAP, Juniper, Brocade, Seagate, SanDisk, Apple, Veeam, Nutanix, Rubrik, Zerto, Carbonite, Commvault, Qumulo, Cohesity, AWS, Symantec, Arista, Barracuda, XIO, Turbonomic, Actifio, Open Text, Bromium, Salesforce, Microsoft, MicroStrategy, ServiceNow
DMR's: CDW, PCCONNECTION, Insight, Zones, PC Mall
Distributors: SYNNEX, Arrow, Ingram, Tech Data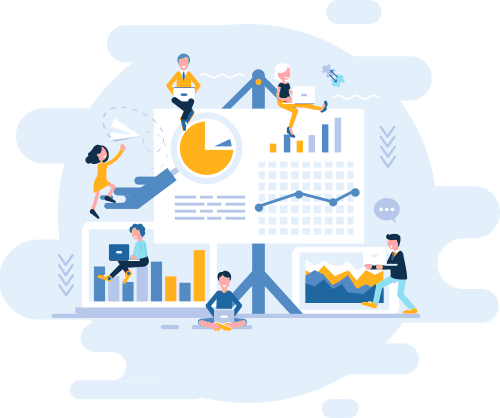 We work individually with our clients to create a customer-centered focus plan for messaging and marketing for a seamless go-to-market execution. LeverageGTM will:
Ensure that your product has the perfect market fit with pilot customers
Scale and optimize your resources to plan your marketing strategies, financial risk, collaborators and sales techniques
Identify technology and tools to improve sales, marketing leads and overall return on investment (ROI)
Determine methods to accelerate revenue and improve your internal process while minimizing customer churn rate
Provide experienced feedback for all elements of your operation, from sales meetings and customer reviews to account planning and managerial alignment
Create awareness surrounding your repeatable wins, best practices and success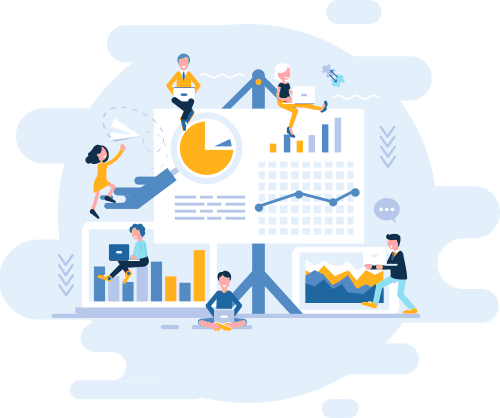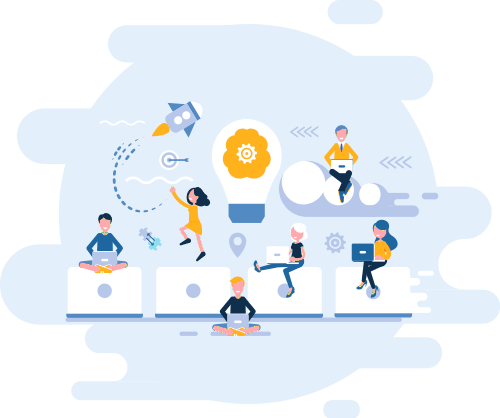 We can set up private meetings at industry events, secure senior executives for conferences and offer your company preferred treatment by G2 Crowd, Gartner, SiliconANGLE and Tech Target. In addition, Leverage GTM can:
Connect your business with solution providers and end users in your market and industry
Discover new value-added resellers (VARs) or OEMs
Offer benefits from top industry analysts to create and enhance partnership relationships varying from sell-through to sell-to
Identify hosts for demos and proof of concept demonstrations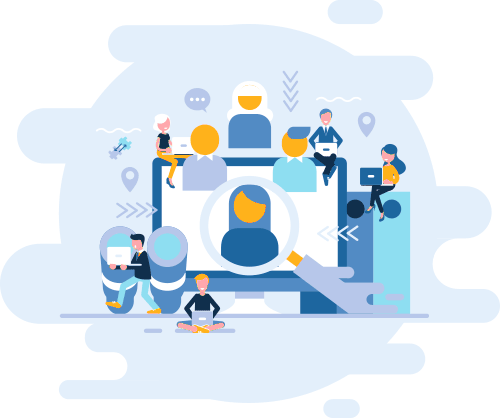 Our expertise helps attract and develop top talent to work together for the long-term benefit of your business. We can oversee the planning process for capacity-building and compensation for years of growth. LeverateGTM also will:
Provide insight for past and future organizational changes
Offer feedback for creating and executing performances management reviews
Evaluate your current talent resources
Develop customized assessment tools in association with your sales management team to improve future performance feedback and results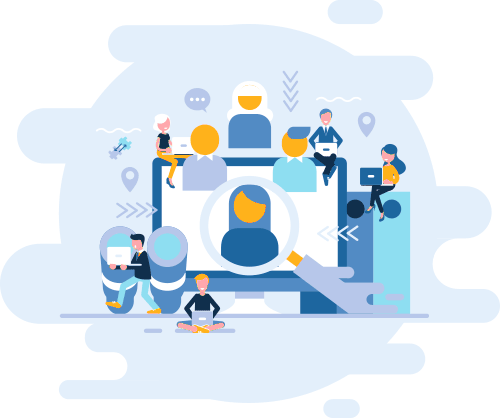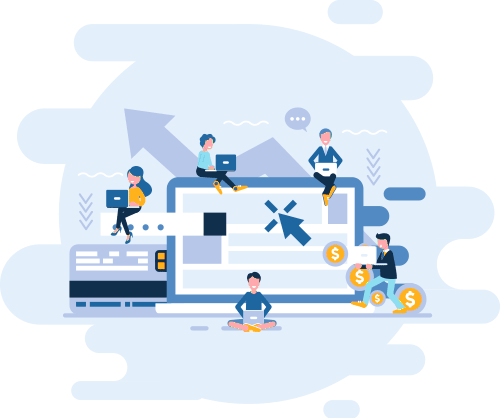 Streamlined and successful customer connections are at the heart of any thriving business. Refine your customer relationships management (CRM) before or after you launch. LeverageGTM helps you focus on:
Shaping your metrics using state-of-the-art tools and software to analyze your sales cycles and overall growth
Diagnose and recommend improvements of any issues within your sales operations
Coach your sales team on best practices, accountability and review methods that result in faster sales and increased activity
Integrating sales dashboards to measure growth, quotas, repeatable wins and other key metrics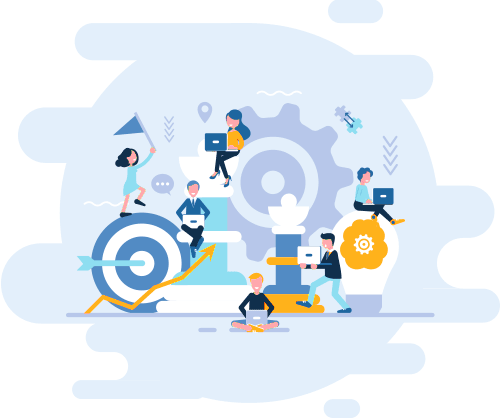 For long-term success, your business culture and values must be aligned to your vision and goals. We are highly experienced in helping you align your strategy effectively. In particular, LeverageGTM will:
Align your resources to support execution of your strategic plan within your daily operations
Develop scorecards to measure improvements from both an internal and external perspective
Ensure your go-to-market priorities calibrate with the industry roadmap for your product
Provide a sounding board for executive and management teams
Offer feedback regarding your competition positioning within the marketplace
Discuss your funding needs
Provide oversight and participation with your board of directors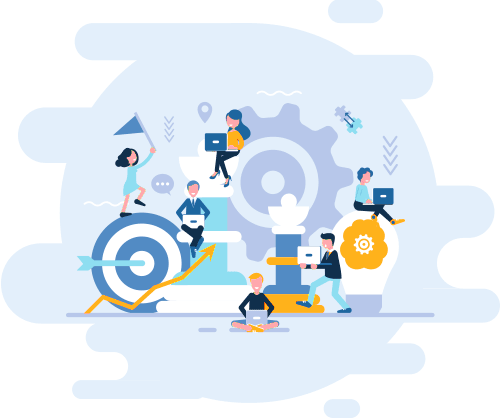 Today's markets work collaboratively, demanding creative partnerships to enhance growth. For internal success, your plan to integrate partners must be well-researched and highly strategic. LeverageGTM will work to:
Identify potential service providers, system integrators and value-added resellers
Lead partner selection and recruitment process, including signup, training and quota creation
Manage the partnerships to ensure quality and value of your network
Identify potential service providers, system integrators and value-added resellers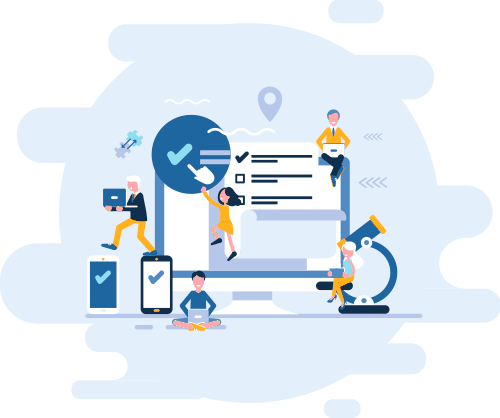 As businesses grow and thrive, major changes are inevitable. You can rely on the first-hand relationships and experience of LeverageGTM during these challenging processes. We can:
Lead your team through the due diligence process
Provide expert and independent evaluations of team quality
Gather customer and partner feedback
Ensure proper target selection and confidentiality throughout the M&A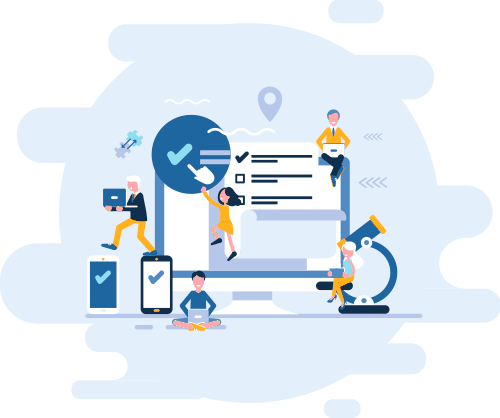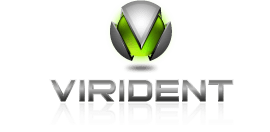 Rapidly grew SignNow from $250,000 to winning the 2018 Gartner Top Enterprise Award and 2016-7 Top Enterprise Software by G2Crowd with marque wins including: MetLife, Apple, Amazon, TechData, Zoom, US Dept of Defense, Republic Services, & State of CA Courts

Pivoted Barracuda from boxes to public cloud via award-winning Essentials for Office365



SignNow Wins Top 10 Solution 2018
With enterprises turning digital, "paperless" workplaces have long since become the norm. However, this trend increased the vulnerability of businesses and paved the way for security threats such as fraud and data breaches. To ensure that their customer-facing digital channels have adequate security features built in, organizations are eager to adopt advanced authentication options to help validate the identity of participants in any digital environment. One of the prerequisites for this hassle-free environment is electronic signatures, or e-signatures, which help them ensure processes are safe and secure.
Ken Grohe, the president of SignNow discusses his company's unique stand in the digital market and their ability to tackle multiple issues through their portfolio of e-signature solutions, which aims to provide a quality service designed for optimal user interaction.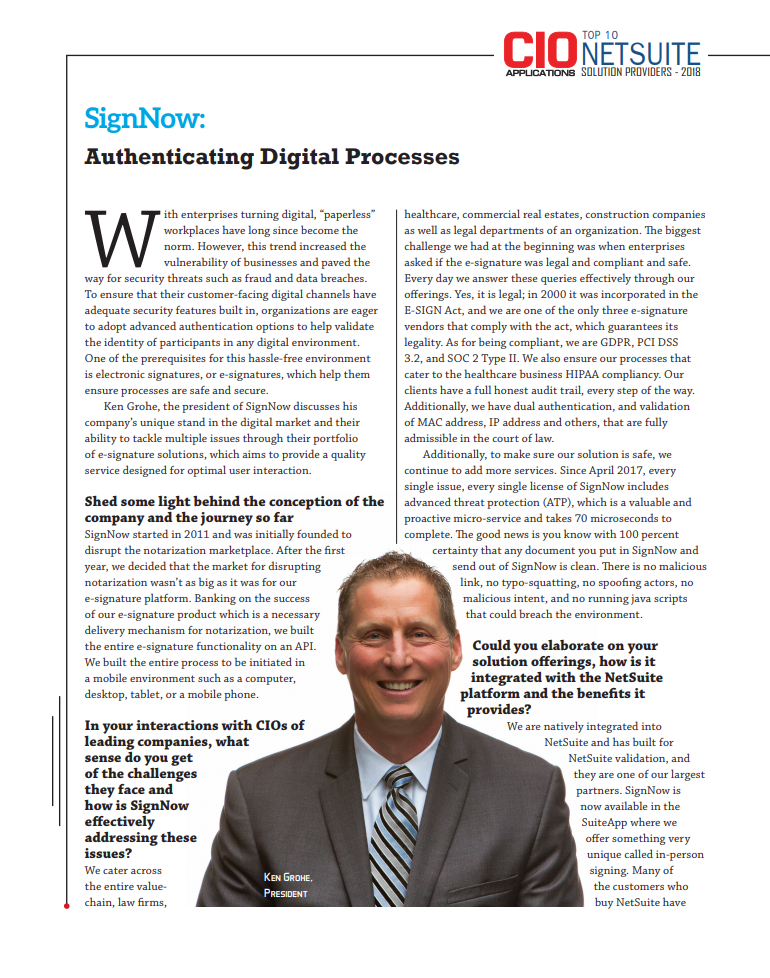 Leveraging NetSuite & Your Mobile Device to Make More $$$
By simplifying basic business processes and making an interface intuitive, SignNow is able to provide business tools for success. In his new book, "Leveraging NetSuite & Your Mobile Device to Make More $$$", Ken Grohe, President @SignNow+PDFfiller, shares his vision on SaaS and Marketing trends. In the book, he reveals his secrets for helping users leverage their ERP, CRM and customer data processes in order to make more money and improve customer service.
Grohe takes readers through his firsthand process translated into an easy flowing narrative of transforming a typical "customer transaction" into a perception changing experience.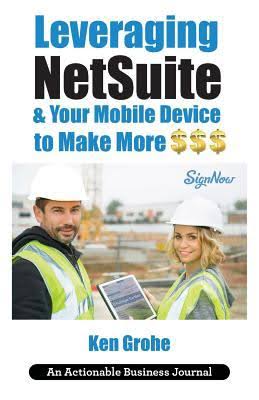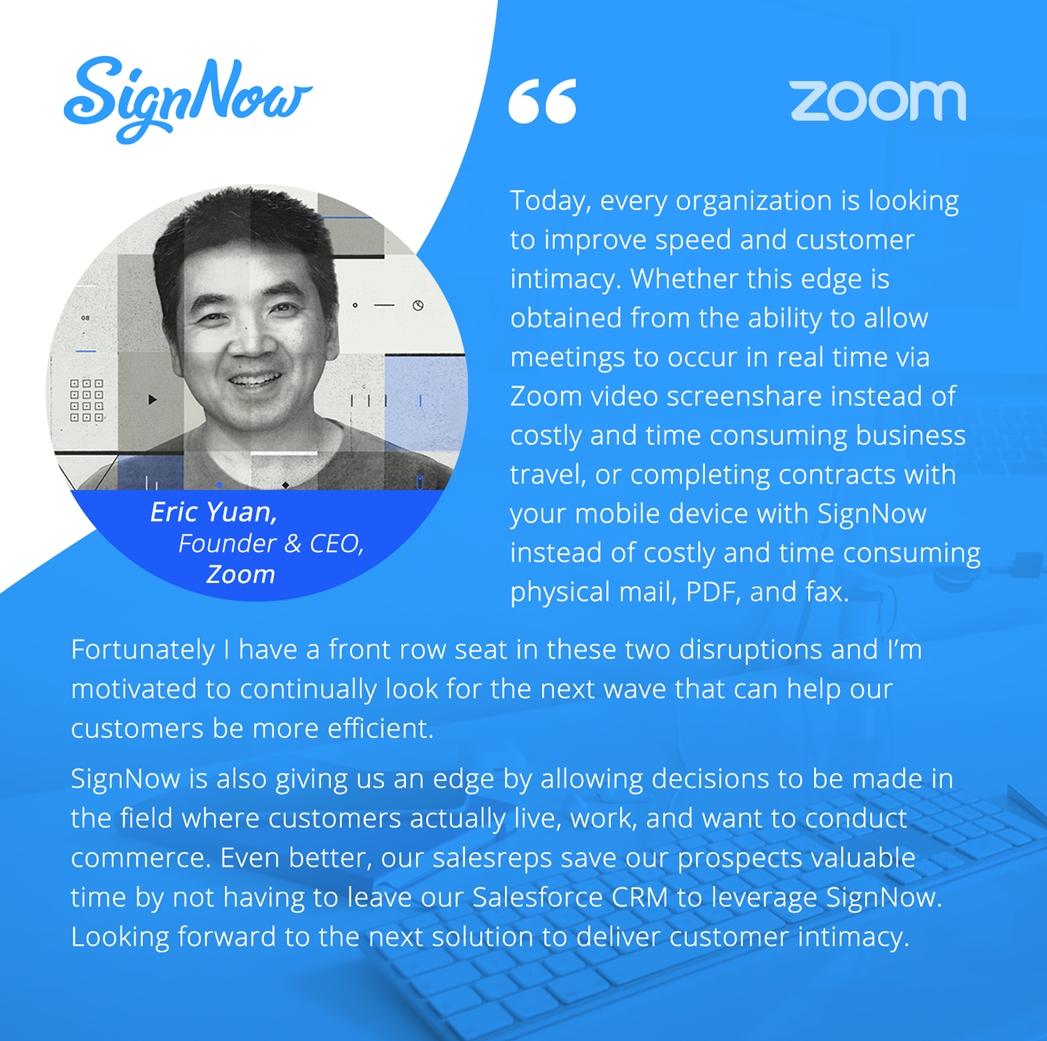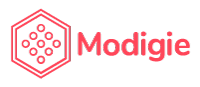 There comes a time in every startup's development when its founders need to expand their initial team by bringing in additional executive expertise. These early recruits – whether in engineering, product, finance, marketing or sales – are usually the most critical executive team members that companies need to propel them through hypergrowth…
I had the chance to work with Ken after his legendary 25 year career at EMC and not long after building the SignNow success. Together, we worked several larger enterprise deals together from the CEO across all the executives and found him to be a very professional, polished, high energy field general. If you are in the market for the best GoToMarket executive leadership, you might want to talk to Ken. Thanks. And keep up the great work. Let me know how I can help. Scott
"I had the pleasure of directly managing Ken Grohe while at EMC two different times, both while we were in uber growth mode and disrupting the market daily from IBM in it's own market. We won the largest midrange customer at it's time which was Standard Products for well over $1M, when the average ticket was only $30k and later we won Progressive Insurance for over $4M when there were no other wins globally over $1M. Ken always crushed his quota and was willing to lead the team by example. Many times I'd have people go on the road with Ken to watch and see how it was done. He is a professional and visionary. Now watching him as an Executive, I've seen Virident, Barracuda and now SignNow blossom under his leadership and customer centricity. I've been involved as a board member and an investor in many tech companies over the past three decades, and I get to see a lot across the IT landscape … I think Ken is at the top in terms of executive leadership and building/running sales/GTM in IT and SaaS. Peter Bell. "
I've known Ken since 1988 at EMC – where we both grew up. Ken is one of the highest energy sales/marketing executives you will ever find. You will get tired well before he does!!! Ken understands technologies and markets, and most importantly, people.
Ken has endless energy and creativity that drives the people around him to achieve phenomenal results. The level of visibility he brings between his lunchtime Friday, his podcasts and social media presence, is impressive. He is always game ready and brings his best to every sales call and sets the same high standards for the rest of his team.
During our time together at WekaIO, I witnessed Ken's unique ability to raise the awareness of the company's profile in both tech and business publications using modern media outlets and channels. He has a talent for crossing the chasm and bringing together functional groups for effective team building and business planning. Ken has vast experience and relationships in the tech space and leverages those relationships to expertly navigate and steer business strategies for accelerated, high growth.
Loved working with Ken (and Gene Fay!) at EMC. His passion, focus and energy always drove my channels team partners forward. That type of positive energy is critical for a sales organization.
Ken is one of the best Go-To-Marketing people in the business. His understanding of the customer and their requirements is second to none for the datacenter. He consistantly stays under budget and over acheives on multiple levels. His relationships in the industry help across channels, marketing, and sales in order to comprise a win/win strategy. The bottom-line is Ken delivers time and time again.
Ken has led many winning organizations by creating the right mix of environment, collaborative teamwork, strategy and leading by example. Ken has thrown his life into high technology sales and marketing, and received an education under the legendary Peter Bell and Mitch Breen (at EMC). People gravitate to him. I am one of those that has thrived working with Ken at multiple companies. And add humor. Ken always adds humor. He has a great sense of humor. Ken is refined, honest and self-deprecating when he needs to be. Finally, he has always been transparent, honest, and "all in". That's all you can ask from a great leader.
I had the pleasure of working with Ken for over 4 years. He is a passionate and natural born leader with an unrivaled and infectious energy. He is personable and professional and you can't help but to learn from his decades of experience in leadership, sales, and technology.
"I had a pleasure reporting to Ken at Virident and HGST for almost 2 years. He is a fantastic leader with great abilities in Sales, Marketing and Business Development. He empowered me in every occasion and always backed me up with all my decisions and recommendations. I look forward to working with him again in the future!"
"Ken has led many winning organizations by creating the right mix of environment, collaborative teamwork, strategy and leading by example. Ken has thrown his his life into high technology sales and marketing, and received an education under the legendary Peter Bell and Mitch Breen (at EMC). People gravitate to him. I am one of those that has thrived working with Ken at multiple companies. And add humor. Ken always adds humor. He has a great sense of humor. Ken is refined, honest and self-deprecating when he needs to be. Finally, he has always been transparent, honest, and "all in". That's all you can ask from a great leader."
The first time I met Ken he was sitting in the front row at New Hire Training and I was on stage for a short presentation. He asked a lot of great questions, and had an infectious energy that made that entire room ready to run through a wall and WIN. I soon found out that he was the new lead of our division that was focused on bringing brand new products to market within an existing brand. From the very first day his passion for technology, deep empathy for clients, and incredible talent as a leader was very clear. I had the pleasure of reporting to him for 4 years, and every interaction was an MBA masterclass. If you have the opportunity to work for Ken I'd encourage it wholeheartedly, I'd work for him again any time.
"Few people have the opportunity to work under the phenomenalleadership of someone like Ken. Ken is a motivated, forward-thinking, genuine leader who is always on the front lines with you from concept to completion. Ken leads by example and has the willpower to win."
Any sales organization wants a leader like Ken and any sales rep wants to have a boss like Ken Grohe. He is always the voice of the customer, energetic, knowledgeable and passionate. He's a true leader that doesn't hesitate to help close business and make himself available to his team. It's appreciated as he also places trust in his people to get the job done. Your leadership team will be better if it includes Ken in it.
"Hands down the best manager I have ever had. He was always available to help with a deal in any way he could, and was very passionate about the products he was selling. He always had sound advice and taught me who to target, how to target them, and when to target them. I owe all my knowledge of what it takes to be a successful sales rep to Ken Grohe."
I worked under Ken Grohe for 1 year at airSlate and SignNow. Ken is a great leader who always strived to make our organization better, and took good care of the people working under him. Ken goes the extra mile to ensure customers are successful and happy, and is meticulous about the projects and deals that are needed to move a company forward. I highly recommend Ken as both a leader and human being; Any company fortunate enough to have Ken will benefit from his business and leadership abilities.
Dear Ken, It is my honor to let you know, am writing a reference for you today my friend. Will be delighted to speak with anyone about your leadership and extraordinary executive skills. Anyone who works with you is beyond fortunate. Your passion, integrity and ability to scale businesses, far beyond expectations, is singular and unique to you. Sending best wishes to you and your family. You will receive my note on Monday. Always, kathy
"I met Ken when he joined Barracuda to lead a set of emerging products. Ken's presence in any situation brings extremely high levels of energy and collaboration. It was both fascinating and entertaining to watch Ken work with his teams; as he consistently brings out the best of every member regardless of his or her role. Ken's professionalism mixed with humor and tenacity really helped Barracuda in taking these early-stage products to the next level. Ken is also a relentless and passionate promoter of whatever he is involved in; he is funny, exciting and brilliant in delivering his message to the world. As I remember, our SignNow product took off under Ken's persistent push for success in that space. Ken took on very challenging tasks in pivoting our offerings by taking initiatives with an unparalleled passion for results. I highly recommend Ken to any business partnership as a C-Level executive in any organization involving technology."
Ken tremendously helped raise the visibility, value, and relevance of WekaIO every day and every hour!   Ken's deep SaaS experience, leadership, and contagious enthusiasm were front and center every day.  Ken is deeply connected, passionate, and highly energized about winning and is tirelessly working toward maximizing the success of an organization.  Ken is not afraid to roll up his sleeves and close critical customers himself, but can also manage and drive a fast growing organization to optimal business outcomes that scale.  He helped us gain the JPM Elite 80 distinction, Top 10 Innovator by "Fast Company", ESG Validation, IDC Profile, numerous Next Platform and Forbes articles, and our initial wave of 5 star Gartner Peer Insights.  Ken's work ethic and integrity are beyond peer and I strongly believe Ken can be a key engine for any company looking to create or level up their go-to-market execution. Thank you very much for all the hard work you've put into Weka, your contribution was invaluable. We looking forward to working with you as an advisor!
Ken is a force of nature! Ken's deep experience and unbridled enthusiam are front and center every day. Ken is deeply passionate and highly energized about winning and is tireless working toward maximizing the success of an organization. Ken is not afraid to roll up his sleeves and close critical customers himself but can also manage and drive a fast growing organization to optimal outcomes for the company and the field team. Ken worked directly for me and led both Sales and Marketing at Stellus. Ken quickly hired a great team of seasoned professionals. Ken led putting together the initial customer cohort for Stellus from scratch in less than 90 days with a Beta product and led creating Stellus market/launch messaging and industry positioning. Ken also drove and delivered our company launch event to great notoriety and significant reach. Ken's work ethic and integrity are beyond peer and I strongly believe Ken can be a key engine for any company looking to create or level up their gotomarket execution organization.
Inspirational mentor and leader, Ken Grohe gave kathy ireland Worldwide, a wake up moment with Ken's post on references. We're coping with #covid19 reality & many we respect, are in the midst of career change. Why not use LinkedIn & intro great people to our network? This post celebrates a great executive, husband, father and friend, Ken Grohe. Ken is unlike most C suite leaders we've met in my 4 decade plus career as advocate for artists & icons careers in film, theatre, broadcast, music, retail, licensing and marketing for Kathy Ireland, Elizabeth Taylor, Vanessa Williams, my goddaughter, Janet Jackson et al. Ken's the rarest of brilliant folk. A giant in honest, powerful negotiation. Ken makes you want to give him what he wants. And you feel great about it. Delivers wins for his team & while closing deals, opens strong relationships. Ken's sales talent:Mastery. Grow sales from 0 to blitz scaling? Surpass Revenue projections? Ken Grohe is the person.Leader. Mentor. Purpose driven. Servant based. Quality human & invaluable asset. Kathy hopes Ken will join the intimate Advisory Board of kathy ireland Worldwide, with Berkshire Hathaway's NFM giant, Irv Blumkin & those in Kathy's awesome sphere of mentors. Ken gets it done now. Always. Am grateful you now know Ken Grohe.
Ken is a great sales leader and an expert when it comes to sales leadership. I had a chance to work with him at 2 different storage startups and one had led to acquisition. He has a fantastic ability to tackle all the customer problems. Ken is an excellent team leader and is great in front of customers and partners. He also gave utmost importance to the employees working under him. He is also incredibly easy to work with, and a great asset to any organization.
A few weeks back in our weekly executive coaching meeting, Ken paid tribute to a mentor of his that had passed on by sharing sweet memories about this person. Ken then asked us all to go around the room and share stories of those who have played transformational roles in each of our sales careers. Each of my colleagues had a definitive answer, but I couldn't think of anyone I'd worked with in the past that was truly transformational in my career. It suddenly dawned on me that the obvious answer was right in front of me. Ken has transformed by career! He is the one person in my life that has taken me under his wing, believed in me, supported me, molded me, gone to bat for me, and always was there for me. He taught me how to win big deals, win as a manager but also how to win at life through what a good human he is all around: as a father to his beautiful daughters, a pillar in his community, a leader to his team, and the best mentor I could ever ask for to me. Words cannot express my gratitude toward him. I believe in myself because Ken believe in me.
Ken hired me to run key verticals at Stellus while he built, branded and launched the company from Stealth. Ken built the entire Go To Market team from the ground up, and executed the launch- literally 0-60 over night. He executed on the development of Demand Generation, Website Development, Sales, Support and Marketing. For the Company Launch, Ken retained Kathy Ireland as our brand ambassador, engaged the analyst community including Steve Duplessie at ESG. Ken has a very loyal following as he finds the best in his team members, and empowers them to win. I saw this first hand. He asses his team, sets the strategy and leads them to success. I would work for Ken again in a minute- and that is the best vote a senior Executive can garner.
Ken is a customer focus leader with tremendous energy and out of the box thinking. I had the pleasure of working with Ken because he clearly understands the role of partnership and channel as key element of global sales strategy. He encouraged me to build a cross-functional sales driven organization that would work with his growth revenue-oriented sales culture that he built up at Stellus. Ken cares deeply about attracting and empowering A players. I hope to get to work with him again.
"Ken Grohe is a high energy, customer focused sales leader. He has deep understanding of engaging Enterprise customers and enabling their success. Ken came to Virident, a PCIe Flash based storage start up, as Global VP Sales and Support, he scaled our sales organization, customer focus and revenue velocity by 5X. He brought a lot of maturity, methodology, process to Virident which allowed seamless integration with HGST when acquired. It was only natural that Ken was asked to lead HGST's Enterprise Organization and integrate a new GTM approach. Above all Ken leads from the front, great energy and enables his team with time, support and experience."
"During my 26 years at EMC I had the opportunity to have Ken on my team at various times.  In fact, I may have the distinction to be the very first to promote Ken to management.  What a great decision, he was incredible to build a team around, a visionary, and very hands-on. We won multiple awards as top Management team and most new accounts and highest customer satisfaction.  Ken's team always met and exceeded  his quota, obtained the most betas sites, and received the highest NPS ratings and testimonials. Ken was always willing to lead by example.  Many times I'd have Ken assigned as a rising stars mentor.  He is a professional executive and not afraid to thinks out of the box. As an Executive, I've seen Virident, Barracuda and now SignNow blossom under his leadership and customer centricity.  I've even become a customer of his! I've been on Boards, been involved in many investments,  and I get to see a lot across the SaaS landscape globally and I think Ken is one of  the very best GTM executives in IT Please contact me for any references. Sincerely, Mitch Breen"